[rating:3]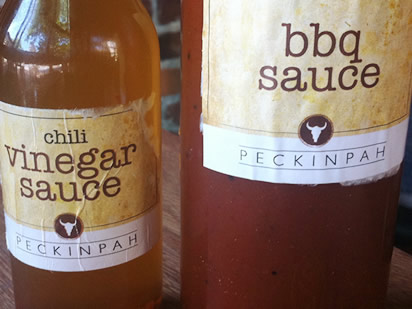 Peckinpah, a Carolina style Barbeque, is located on the picturesque corner of Water Street and Carrall in historic Gastown. The restaurant is perhaps a tribute to Sam Peckinpah, a filmmaker known for Westerns, but is more importantly an oasis for carnivores.

(Above: Lil' bit of Pork on Beef — exactly as it sounds, beef brisket, pork sausage, ribs with a side of corn muffin and southern greens.)
Upon entry, a few steps is all that's needed to meet the bar up front with seating situated on either side. Wood and dark, manly colours dominate the space which is perfectly appropriate for a barbeque haven, or a spot to have a drink — a bourbon on the rocks, perhaps?

(Above: Raven Cream Ale to whet the thirst.)
For Tre, a lil' bit of pork and beef platter was in order: beef brisket, pork ribs, pork sausage with a choice of two sides. Southern greens and an extra corn bread joined the meal. Our platter arrived in a red basket neatly laid out with the fixings, but looked sterile and unexciting. The beef brisket was lukewarm and dry, but had a nice smokey flavour from the dry rub. The pork ribs fared a bit better, but also remained on the drier side, as did the pork sausage. The sides, however, were a decent accompaniment..

(Above: Oyster po'boy — deep fried breaded oysters slathered with mayo and sandwiched between a crusty baguette.)
For myself, an oyster po'boy: deep fried oysters on a baguette with lettuce, tomato, mayo, pickles and a side of potato salad. The Oyster Po' boy was fantastic. A giant, toasted baguette filled with gems of deep fried oysters spilling. It was messy (real messy) and difficult (impossible) to eat, but a pleasure to enjoy. My potato salad didn't disappoint, either: smokey flavoured red potatoes dressed in a light mayo vinaigrette perked up this familiar side.

(Above: There's a lot of wood and tin going on at Gastown's Peckinpah.)
Our bill including a beer, taxes and tips came to just under $43. Our meal was just okay. Besides the Po'boy, it left us wanting a bit more. The service was spotty, nothing terribly bad, but nothing terrible great either. In the meantime, we'll keep an eye out for that smoking gun.
Perfect For: a smoky meal in a gassy neighbourhood.
The Details
#2 Water Street, Vancouver
604.681.5411
peckinpahbbq.com
— ♠ —