[rating:2]
Max's is a storied restaurant franchise hailing from the Philippines. They've been serving their famous fried chicken and Filipino dishes since 1945 and slowly opening up restaurants from California to the United Arab Emirates. Vancouver's first location is on Kingsway just West of Boundary on the Vancouver/Burnaby border.
Inside, Max's is a contemporary franchise operation, from the brightly coloured wall murals, all black pique polo and khaki slacked staff, to the branded disposable placements greeting you at the table as you sit. The fair sized dining room is bisected by a sliding glass wall leading to an occasional private room doubling as extra seating.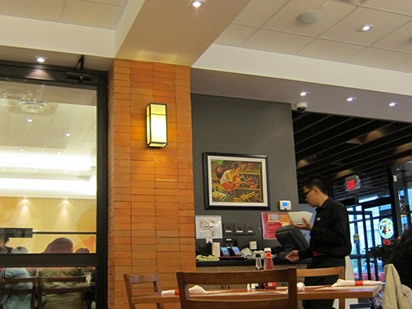 The menu is an assortment of dishes you'd find at many Flipino restaurants: from the Sinignang soup, to adobos of all sorts and fried noodles. But, at Max's it's all about the fried chicken.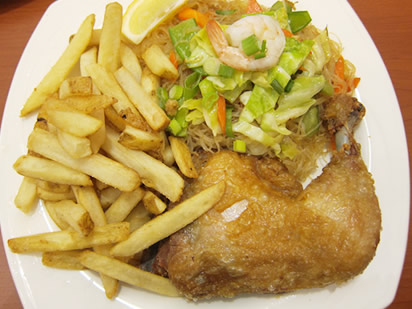 I ordered a combo served with a choice of sides — in my case with Pancit Bihon (fried rice noodle) and french fries. They've clearly got the fried chicken down to a science. My quarter serving was super (and uniformly) crispy and well seasoned on the outside, while remaining tender and juicy on the inside.
Case was less fortunate with her Pork Adobo dish: the generous chunks of pork slow stewed in soy sauce, garlic, vinegar and black peppercorns lacked any of the tenderness we've come to expect of adobos. Instead, the dryness left the pork with a jerky-like texture giving our jaws a formidable workout. The adobo arrived with a side of sterile looking tomato and onion salad and three scoops of woefully overcooked garlic fried rice.
Our meal came to over $31 including taxes and tips which felt a bit pricey for what — with the exception of the chicken alone — felt like cafeteria executed food. The staff was extremely polite, in a robotic-like way, but polite nonetheless and eager to remind you of their names. But overall, the blasé food and sterile atmosphere at Max's left us with a relatively unremarkable experience.
Perfect for: Filipino Fried Chicken to go
The Details
3546 Kingsway Vancouver
604.435.3505
maxschicken.com
@maxsrestaurant
— ♠ —