[rating:4]
:
Situated on Alexandra Road just East of No.3 Road in Richmond, this bubble tea house knows what they're doing when it comes to Taiwanese chicken and ice slush plates. Ice slush plate is a Taiwanese dessert that consists of a big plate of shaved ice drowned in condensed milk and assorted toppings of your choice including various fruits and red and green beans. The dessert is refreshing and sweet. But, I would recommend sharing between two people. Quite simply, it rocks.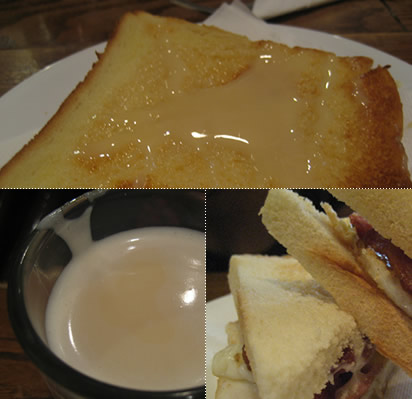 The Taiwanese chicken is awesome. I don't know what they put in there — perhaps Crack  — since it's so addictive. Tiny pieces of chicken are perfectly deep fried with well-seasoned batter. It's served unpretentiously with a side of toothpicks to nosh with for your enjoyment. It's unlike your typical, suspicious, greasy, deep fried chicken fingers that are served at local chain restaurants. Besides, the very name chicken fingers doesn't sound appetizing to me. Who wants to eat chicken meat that is formed into the shape of fingers? Leisure also serves a large selection of bubble teas, coffees and Taiwanese sandwiches.
The decor at Leisure Tea & Coffee is a little unusual for an Asian bubble tea house. It has an old world, European thing going on. Old wooden tables and chairs; pictures of European scenery hang on the wall; and decidedly non-Asian knick knacks decorate the room. I half expect the servers to jump out in lederhosen and start yodeling out the orders. The prices are fair and the service is decent. The only annoyance is the cash-only policy. Come early if you can. It gets busy and loud as the night goes on.
The Details
#1110 – 8391 Alexandra Road, Richmond
604.821.9998
— ♠ —