[rating:3]
Li Garden Seafood Restaurant is a Chinese restaurant located in a busy Victoria Drive neighborhood. It was a random choice for dim sum.
Li Garden is small. Upon entering, anxiously waiting patrons cram into an already tiny space to await a table. There is a complete lack of decor: drab plain white painted walls are peeling off, and a long mirror running down each side of the room  helps make the space feel bigger than it is. But people aren't here for the ambience. They're here for the food, and clearly, it's what holding the attention of the diners at Li Garden.

(Top, beef rice rolls. Bottom, pan fried chive dumplings)
We selected six dishes off an order sheet: beef rice roll, pan fried chive dumplings, steamed beef tendons with tripe, Chiu Chow dumplings, steamed shrimp, chive dumplings, and of course, egg tarts.
The beef rice rolls had a nice, thin and delicate layer of rice roll stuffed with steamed minced beef. Next, the beef tendons with tripe was well seasoned with a good amount of ginger. The Chiu Chow dumplings were stuffed with minced pork, chives and dried shrimp. The outer skin was uncharacteristically thick, but luckily tasted a lot better than it looked. However, the peanuts seemed to be missing in action. The steamed shrimp and chive dumplings were well made and were one of the better ones we've had. And lastly, our brightly fluorescent egg tarts were lightly flaky with a warm custard center. Not a bad way to end breakfast.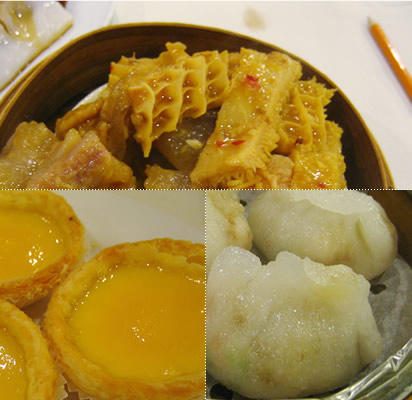 (Top, steamed beef tendons and tripe. Bottom left to right, egg tarts and
chiu chow dumplings)
Our bill including taxes and tips came to just under $23 (with an early bird discount of 10%) — a pretty good deal for six dishes. The service was decent and the host and servers were surprisingly polite. I didn't need to put on my boxing gloves this time, which makes having dim sum much more pleasant. Although the dishes tasted much better than they looked, Li Garden isn't one of those places we'd plan a trip around.
Perfect for: slumming it with tasty dim sum.
The Details
5822 Victoria Drive, Vancouver
604.325.0783
— ♠ —